~Someone Most Havent Met~
I would like you all to meet my husband. Being with him yesterday made me realize yet again how much I really miss him when he is away working (hadnt seen him in 3 weeks). Our visit together was short (he left at 12:30 this afternoon) but it was nice and we actually got to go out to eat at Longhorns kid free last night. He played alot with Connor yesterday and Robert and I made up for lost time in more ways then one :-).

I met Robert on the internet of all places. It was in an Atlanta chat room. I was already dating someone also from online when Robert wouldnt give up till I gave him my number. He called and I could say the rest was history, but it wasnt cause it took a few more calls before I would decide to meet him. Our first meeting was at a Wendys where I had to bring Connor my 6 month old son with me. Robert and I hit it off right away and I decided to brake it off with the other guy. we have been together for 4 years next month. I have to say that the past 4 years havent all been a bed of roses, there were defintely alot of thorns to go thru to get where we are today. We defintely had our fights. Its wasnt easy for either of us to build a new relationship with each other after we both had gone thru 2 very tough divorces. We also had 6 kids to consider into this relationship (both having 3) and what they would think and do.

So after 8 months of getting to know each other we moved in together in July 2002 but still we werent ready to marry, finally this year June 21, 2005 we knew we didnt want a big wedding and all the kids were gonna be at the same place at the same time so we did it, we got marry at the court house.

Being married to a Boilermaker who travels alot is hard on me, us and our relationship. It makes me 10 months out of the year a "single" mom in a way. But hey I look at it this way 2 months out of the year he is off and home. Robert is a wonderful man and good to my kids. He is the only father Connor has ever known ( someday maybe I'll explain that one) and we have even talked about Robert adopting him if possbile. Robert has a very kind heart and loves his kids deeply also.

I know Robert would do anything for me as I would do anything for him.

Sometimes I wonder how I got to find love a second time this late in my life? But then again I just count my blessings everyday that I have this wonderful man and this wonderful family!

I did this post in green cause green is Roberts favorite color.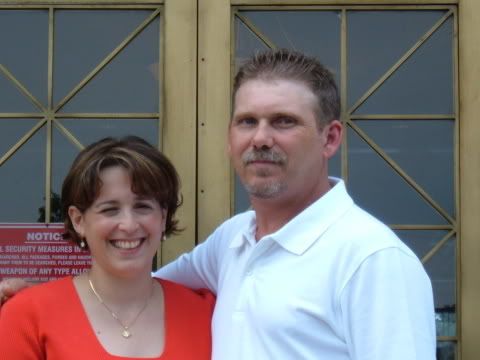 This was taken at the courthouse on our wedding day June 21, 2005. And yes the sun was in my eyes. I look more like my profile picture now, then I had highlights. "I love You Robert!"